Safari Extended Landcruiser-4wd Car Rental Rwanda.
When your thinking of an Africa Safari tour , you just imagine of the Toyota Safari Landcruiser that is modified to the required wildlife watching standard and game drives in the famous wildlife national parks of Rwanda and Uganda.
Rwanda car Rental has the experienced driver guide that will enable you adventure Rwanda's thousand hills when you watch the primates, Big five in Akagera National Park.   These are the most famously know vehicles for a safari trip in Africa. These are normally Toyota land cruiser made for wildlife trips. They are bigger than the usual Toyota land cruiser.
The safari Land cruiser is a 4Wdrive car customized for Africa safaris to various Wildlife countries and primate safaris like Rwanda, Uganda, Kenya & Congo – Uniquely designed with a popup roof and fridge, the safari Land cruiser can accommodate up to 8 people and has enough space for cargo making it suitable for family trips, camping. It's designed to operate even in the toughest environments like on rough murram roads in the countryside.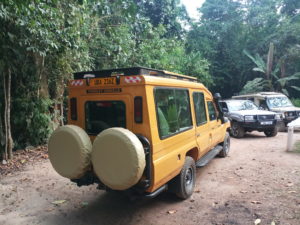 Rwanda car rental has also re-defined some of the land cruisers and enhanced with Pop-up roofs for game viewing. You do not need to worry about the dust and heat sometimes, they are also Air-conditioned with a good fuel consumption capacity.
They have a roofed cabin to carry the large luggage of tourists at the time they have open roofs to enhance the watching of wildlife in their natural habitats. At the back of these cars, there are two interlocking emergency doors with handles of spare tyres. The safari land cruiser a well-designed interior meant for tourists like air conditioners handles for drinks and containers, the good spacing of the seats to make all people comfortable in the car.