Rooftop Tent Landcruiser- 4wd Car Rental
Rwanda Car Rental offers the ultimate Safari Experiences for true wildlife watching while camping the wilderness of Various National parks found within Rwanda, Kenya , Uganda , Tanzania on one way Car Rental . All our rooftop tents come with Sleeping Mosquito nets.
Long Term rental for Car in Rwanda with Rooftop tent comes in handy fits only on Toyota land cruiser Prado, GX and Landcruiser 78 Series at a relatively economical price starting from USD 130 for long term car rental deals that start from 15 Days Rwanda Safari.
What better experience can a traveler on an adventurous self-drive safari in Rwanda have than renting a land cruiser with a rooftop tent? Camping on Rooftop tent jeep is a unique expedition that you should try while on Africa Safari.
Traveling in Rwanda on Rooftop Tent.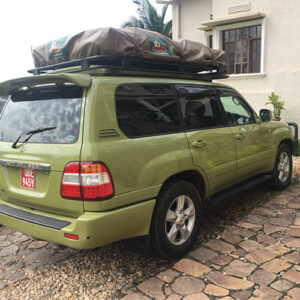 Getting around Rwanda in an exuberant way spending your nights up at the roof of your rental car with no worries of wild animals to invade your campsite. At the roof of the car, you have a good view of the sky and its star rewarding with an ecstatic view in the wild.
The 4×4 land cruiser is well known for its great comfort, combativeness, and speed on the road and your stay in the rooftop tent adds more assurance and comfort since it's free from any ground threats.
Camping Gears included in Rooftop Tent Car
The land cruiser with a rooftop tent comes in handy with other camping gears like mattresses, camp chairs, tables, sleeping bags, torch, cooler boxes, cutlery, gas cooker, and cooking utensils.
This is unbeatable and exciting at the same time. Hiring a car with a rooftop tent enables the traveler to have a night stay at the roof of the rental car in the jungles of some of the great national parks.
Why Rooftop Tent Jeep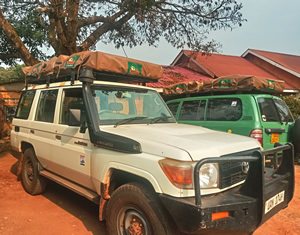 Rwanda Car Rental offers 4wd Landcruiser a roof-fitted tent as part of the package. Roof-top tents are a preference for most travelers because of the perceived threat of animal encounters at night. Hippos and elephants are so completely aware of their surroundings, even in the blackest night, that it is extremely rare that a ground tent is trodden on.
In my experience, hippos don't even nudge the guy-ropes. A tent on a vehicle roof can just as easily be torn to shreds by an elephant. But the fact is, this is such a rare occurrence, and so low on the risk scale, it doesn't deserve a second thought.
If you do need to abandon a tent in a hurry, let it be a ground tent. Roof tents are cramped, awkward to vacate, and it's easy to slip off the ladder! If I had to weigh up the risks of the two accommodation types, I'd place them at about equal.