Many independent travelers have been wishing to travel into the unexplored Democratic republic of Congo to either trek the mountain Gorillas or lowland Gorillas, Hike Nyiragongo Volcano the most active in Central Africa, Rwanda car rental recommends the 7 days Congo classic road trip and is officially available to travelers that wish to visit Congo while in Africa. Self drive safaris are not encouraged in Congo, but Rwanda Car rental has decided to design this travel plan on self drive but with a local company guide as he observes the situation while the independent traveler do the driving on the rough roads of Congo. Test and feel the wilderness that is talked about Congo
On this 7 days classic gorilla tour it begins from Kigali and drive to Goma ( Virunga National Park Congo) where the first safari activities are done and later drive to Kahuzi Biega National park for the lowland gorilla trekking in the Bukavu Section of Congo.
Day1: Self drive from Kigali  to Goma Democratic Republic of Congo.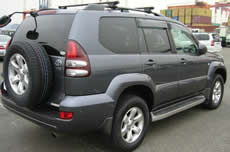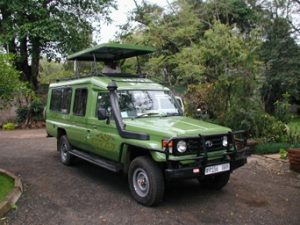 On this day , the company driver and  will drop the rented Safari jeep and offer the ultimate orientation about the car operation styles and later drive to gisenyi Town ( Self drive Safari) and meet the guide at the border of Congo & Rwanda to Cross to Goma Side, Leave the rented jeep from Rwanda at the border and jump into another 4×4 with Congolese Registration. Drive to the lodge in Goma  Dinner and overnight Lac Vic Hotel, meal plan: H/B
Day2: Hike Nyiragongo
Wake up Early morning and take a simple breakfast transfer to kibati visitors centre  before hiking for briefing. Hike to the active volcano Nyiragongo. The 4-5 hours hike through lush rain forest takes you to the spot where the volcano erupted in 2002. Overnight at the volcano, dinner and overnight at Tents, meal plan: F/B( Mikeno Package is recommended and travelers that travel us it at $ 80 PP and Hiring a porter is recommended also at USD 10-15)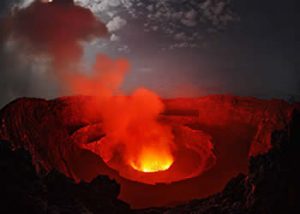 Mount Nyiragongo is an active strato-volcano with an elevation of 3470m (11382 ft) in the Virunga Mountains associated with the Albertine Rift. It is located inside Virunga National Park, in the Democratic Republic of the
Congo, about 20 km (12 mi) north of the town of Goma and Lake Kivu and just west of the border with Rwanda. The main crater is about two kilometers wide and usually contains a lava lake. The crater presently has two distinct cooled lava benches within the crater walls – one at about3,175 meters (10,417 ft) and a lower one at about 2,975 m (9,760 ft). Nyiragongo Lava Lake has at times been the most voluminous known lava lake in recent history. The depth of the lava lake varies considerably.
Day3: Descend to Mikeno Lodge/ Bukima Tented Camp

You will descend down the mountain and arrive at Kibati in the morning at 11 am, jump into the safari jeep to take you through the jungles as you reach at Mikeno lodge to relax and enjoy the wilderness view of  Virunga National Park. Overnight is foreseen at Mikeno Lodge. Meal plan: F/B
Day4: Gorilla Trekking in Congo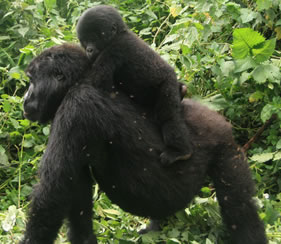 If you selected bukima Tented camp, you will not need to drive any distance  when going for Gorilla Trekking and you will just wake to the start point yet those that selected Mikeno will have 2 Hours drives from the lodge to bukima the briefing point about Gorilla trekking , So select the lodges depending on the needs and interests of your choice . gorilla trekking starts by 9:30am latest. Tracking can last a maximum of 6hrs and thereafter return to Goma at the  and cross to Rwanda find the previous fleet ready and drive to hotel. Dinner and Overnight at Lake Kivu water front beach Rwanda. Meal plan: F/B
Day5: Gisenyi – Bukavu
Have breakfast, and after embark the Safari jeep  to transfer to Bukavu and stay for an overnight. Far Horizon hotel /orchids
Day6: Kahuzi Biega National Park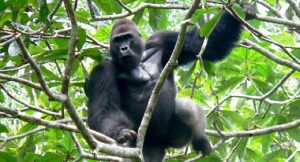 Wake up early in the morning and take 1 hour drive to the starting point of Lowland gorilla trekking for briefing about the donts and dos while in the gorillas, Lowland Gorillas in kahuzi Biega National Park are found in the lowland Valleys of Mountain Kahuzi and expect tough terrains, always carry enough packed lunch. it can last for 3-4 hours and later drive to Kibuye Rwanda. Dinner and over night Meal plan: F/B
Day7: Kibuye Rwanda -Kigali Airport.
After breakfast, transfer to Kigali in the safari jeep which is likely to take you 6-7 Hours Drive with stop over to some genocide memorials and cultural sites.
The package includes:
Car Rental Fees
Ground transportation
Mountain gorilla permits
Low land gorilla permits
Lodge accommodations
All meals, mineral water
The services of a Driver-Guide
All park and entry fees
Hike Nyiragongo Volcano permit
Mikeno Package
The package excludes:
The Personal expenses, Congo visas, flight charges, other personal expenses like tips and donations, all drinks except mineral water.