4Wd Land Cruiser- Open Roof & Roof Top Tent Cars.
Looking for 4wd Landcruiser for rental in Rwanda on Long term Car Hire? Get the latest Landcruiser for self-drive Safari or projects in Rwanda from experts that offer car hire in Rwanda with free border crossing in Africa.
Rwanda Car Rental has different jeeps of Toyota Landcruiser for the African Safari that can encompass the gorilla trekking in Volcanoes, Open Roof land cruisers for wildlife watching in Akagera National Park and other Uganda National Parks like Queen Elizabeth for the big five watching.
Toyota Landcruiser Prado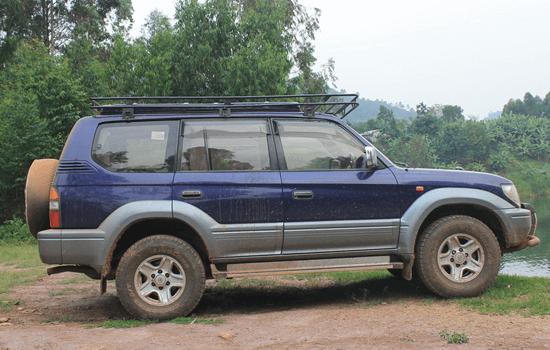 The Land Cruiser Prado is another series of four-wheel drive cars manufactured by Toyota; Japan's leading automobile company. There are two series of this Toyota Landcruiser Prado which compose of TXl which are the most expensive for rental in Rwanda, and the Tx Prado ordinary which is cheaper and recommended for Self-drive Safaris in Africa since they are not too much electrical compared to the TXl.
When looking for Rooftop tent Landcruiser the most recommended Jeeps are either Prado, GX and Landcruiser LX 78,79 Series which are extraordinary cars for African Safaris.
The land cruiser GX can operate even in the toughest terrain and has a wide range of useful electronic gadgets like the satellite navigation system to help you get around any destination however little you know about it.
Land Cruiser Prado accommodates up to 5 people and is suitable for self-drive tours and off the beaten track safaris in Rwanda & Uganda. You can also use this car for family trips, conference meetings, and wedding events as it's stylish and eye-catching.
Rooftop Tent Landcruisers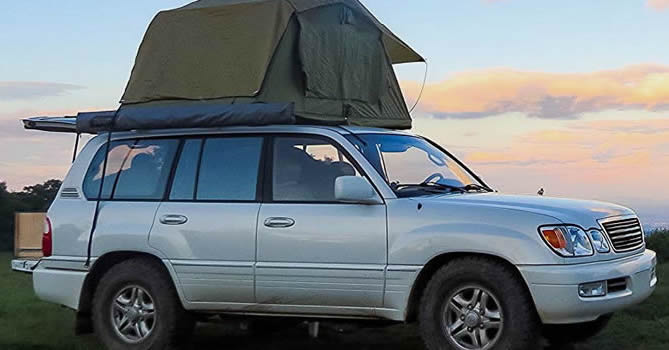 Rwanda Car Rental Mounts Rooftop tents on Landcruisers for the best wildlife adventures, Rwanda doesn't have much camping grounds but you will park at the lodge and request the parking grounds.
The Toyota Prado Land Cruiser / Landcruiser V8 with a rooftop tent for rental in Rwanda and Uganda is a mid-size four-wheel drive vehicle in the Land Cruiser. The much spaced full-time 4W cruiser is a very economical and comfortable vehicle good to maneuver through Rwanda terrains on self-drive car hire.
We do have both the manual and Automatic transmission vehicles all with the same power. The 5 seater and high ground clearance vehicles have enough cargo room, higher visibility, and the option of full-time four-wheel drive. The best recommendation would be 4 persons that would create a great room for the extra luggage check on the Rooftop Tent jeeps
Land Cruiser Extended
Africa Safari experiences with an extended Built and customized Jeep to conquer the Africa and Uganda safari experiences. The extended safari land cruiser is one and the best 4WD land cruiser of the 76 series with a tough and utilitarian Rwanda.
The land cruiser is extended to fit a maximum of 8 passengers and 1 driver. Built with a popup roof and inbuilt freezer would be the perfect luxury safari land cruiser for an inspirational journey. Sitting and driving in our extended land cruisers is a feeling of its own, a feeling of Safari, and yes a feeling of Adventure Check on the official 4×4 Africa.