Golden Monkey Tracking – Primate Safaris & Tours: Rwanda Car Rental
Plan for golden monkey track in the wild of volcanoes national park for ultimate road trip adventure in the wild. Golden Monkey tracking on self drive adventure can be done in two national park one in Rwanda and the other in Uganda. Rwanda car rental provides the ultimate golden monkey tracking adventures in either nations on self drive holidays.
After mountain gorilla trekking in volcanoes  national park? Golden monkey tracking is the second safari activity enjoyed by tourists and travelers that select to enjoy primates adventures in Rwanda.
Golden monkey tracking is a relative new comer on the wildlife scene of East Africa. But it is rapidly rising in popularity both in Volcanoes National Park and across the border at Mgahinga gorilla national park in Uganda. More like chimp-viewing than a gorilla encounter, these beautiful and active monkeys bound about the branches of bigger trees. If you are looking for a reason to spend an extra day in the park, don't miss the chance to track these rare animals.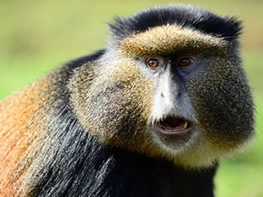 Golden monkeys, which are subspecies of the wider-spread blue monkey, are endemic to the Albertine Rift valley and are distinguished by their gold body coloration, which contrasts sharply with black patches on their extremities. Classified as an endangered species, golden monkeys can only be seen in the Virungas, as deforestation and population growth in the Great lakes region has greatly affected their home range.
Golden Monkey permit in Rwanda costs USD 100
Golden monkey tracking in Uganda costs USD 50.
Rwanda car rental offers free booking of the gorilla permits or golden monkey permits in all destinations that are visited by primate lovers on road trips and Self drive Safaris.