SUV Rental Cars, Car Rental Rwanda, Rooftop Tents, Self Drive.
When it's time to book your vacation wheels, you need the right Rwanda SUV rental car that we are best known to be dealing in for over 10 years.

Want to cruise through land of thousand hills in an SUV? Rwanda Car Rental makes it easy to rent a car that suits your self-drive trip. When you pick up an SUV car rental, you can explore the area on your own schedule, take a road trip and check out all those attractions the bus routes don't quite reach and get around without relying on friends or family to drive you from Kigali Rwanda to Volcanoes national park or Akagera national park while on Rwanda Safari.
Why Recommend SUV for Rental
It's no surprise that demand for SUV rental in Rwanda & Uganda is at an all-time high. As the world has gone SUV mad, more and more models are introduced to the sector and are increasingly available to rent.
5 years ago you may have been limited to 4×4 rental in EastAfrica if you needed a sports utility vehicle, one capable of taking on terrain way beyond the tarmac, however city SUV's are now a trendy addition to the car model line up for many of the main manufacturers and more and more customers want to own and rent SUVs in Rwanda and everywhere else in the world. Luckily, an increase in demand goes hand in hand with an increase in supply, and with that comes competition which keeps prices low.
Cheap SUV rental in Rwanda, Uganda, Kenya & Tanzania is now a reality, where once it was viewed as a luxury item, now it can fit into any budget. Contact us today and we will make your stay in Rwanda better one.
Toyota Rav4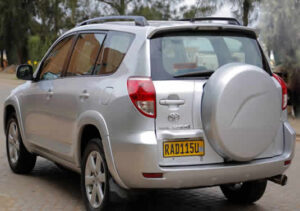 The Toyota rav4 offered by Rwanda Car Rental is of wide section as it noted that rav4 has first-generation ( Model 1994), Second generation (Model 2000), third-generation ( model 2005 that was redesigned in 2006 ) fouth Generation ( Model 2012).
The Toyota RAV4 is a compact crossover SUV (sport utility vehicle) produced by the Japanese automobile manufacturer Toyota and is among the available fleet that is recommended to African roads as its 4×4 fleets that is popular for transportation of travelers in Uganda, Rwanda. Planning self-drive safari in East Africa, Rwanda Car Rental will recommend these fleets to small family travelers mostly visiting Uganda.
Toyota rav4 is a popular car rental jeep available that the cheapest rate in Rwanda at USD 55 /day for long term deals. if the rental in these two countries is for more than 30 days expect a lower price than the above-mentioned rate. Don't miss to self-drive in Uganda & Rwanda in an SUV fleet that is in good mechanical condition with working Air conditions, full-time 4×4( 4WD). Read More
1. Toyota Landcruiser lx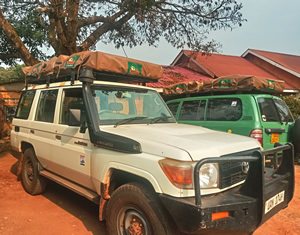 Have the chance to drive a legend and rent a Toyota Land Cruiser with Rwanda car Rental. This bold and beautiful SUV is the perfect travel companion for your next Rwanda Safari on self-drive or with an experienced driver. With a Toyota Land Cruiser rental, you will be ready for anything as this iconic vehicle has made its name through its reliability and expert handling in a range of road and weather conditions. Make some special memories while enjoying an unforgettable driving experience with a Toyota Land Cruiser SUV rental in Kenya, Tanzania, DR Congo, Uganda.
Safety is paramount, with ABS (anti-lock brakes), ESC (Electronic Stability Control), driver & passenger airbags, and traction control. Inside and out the fresh approach to design is evident. The dashboard and door trim creates an open and spacious feel. Levers inside the back doors enable you to lower the rear seats with ease if you want to extend the storage space for your luggage or treasures you have collected on your travels. Read More
Benefits of Toyota Land Cruiser Car Rental
Timeless Style: Besides its top performance capabilities the Land Cruiser is also revered for its top of the line sophistication. Expect luxurious comforts in its spacious cabin and to turn heads with its bold exterior design. Exciting LED lighting and chrome details are just a few of the style highlights that make this SUV stand out.
Fully Equipped: To complement its exceptional drive the Land Cruiser comes fully equipped with all you need for a comfortable ride.
Solid and Safe: The confidence of Land Cruiser drivers is no coincidence. Almost unrivaled by other vehicles in its class, the Land Cruiser is famous for its exceptional abilities. A solid frame and a suite of driver and safety systems round out this rugged SUV.
2. Toyota Fortuner

Toyota Fortuner is a very popular vehicle for renting and comes with unlimited mileage options. We offer the best prices for a Toyota Fortuner car hire and it's backed by our best price guarantee.
A blend of luxury and leading off-road capabilities, the Toyota Fortuner stands first amongst them all. With high-quality finishes you can see and feel, am elegant and impressive interior, extra storage, and completely redesigned engine.
This dynamic, fuel-friendly SUV still delivers on torque, power, and looks. All models come with cruise control, perfect for trips out into the country, allowing you to sit back, admire the view, and relax on long stretches of road. These rental fleets are common in Rwanda, Uganda!
Benefits of Renting Toyota Fortuner SUV Rental
Besides its rugged style and refined abilities, the Fortuner features a number of stand-out features. Here are just some of its highlights:
Tough Stance: The Fortuner is especially road ready. Its robust on-frame construction is outfitted with skid plates so important features like the engine and fuel tank stay protected. Superb suspension and plenty of ground clearance ensure drivers are prepared for the best and the worst.
More Control: One of the keys to a successful trip is not only bringing along everything you need but having easy access to it as well. With a Toyota Fortuner rental, you can quickly grab your gear without having to open the rear liftgate simply by lowering the power rear glass.
Smart Safety: The Fortuner is equipped with the Star Safety System, which includes an array of safety systems. Feel confident at the wheel thanks to features like Vehicle Stability Control, Traction Control, and Electronic Brake-force Distribution. Three-point seat belts for all seating positions and strategic airbags make sure all occupants have the chance to stay secure.
3. Toyota Landcruiser TXl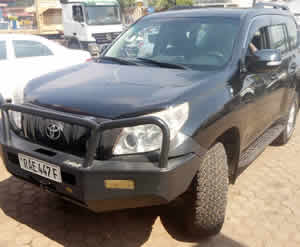 This is the ultimate luxury car. The Toyota Landcruiser TXl is African built and ready to take on the harshest environments for both business and pleasure, regardless of what trails you may cover on your adventure.
It is one of the cars that have kept their legacy of first-class and durability. Renting this type of SUV car is an opportunity for visitors to save money as it is also in terms of fuel consumption.
Safety is paramount, with ABS (anti-lock brakes), ESC (Electronic Stability Control), driver & passenger airbags, and traction control. Inside and out the fresh approach to design is evident.
 Booking for SUV with Rwanda Car Rental
Rwanda Car Rental is a very affordable and best car rental service provider in Kigali, Rwanda.