Planning to Hire a Car while in Rwanda or Uganda for the business trip during the short or long rental basis? Rwanda Car rental is the leading Car rental Firm in Rwanda offering Reliable Car hire services to independent Travelers in East African Region Plus Congo that offers the best rate to private organizations and humanitarian organizations that require to have strong 4×4 for their long term or short term contract.
Having time to reveal to us your specifications and needs help us to provide the suitable vehicle with all your interests and need to ensure you enjoy the road trip to Rwanda.
A sturdy 4×4 vehicle to handle the roads and a reliable service in case something goes pear shaped. At Rwanda car rental, we have a fleet of Toyota RAV4s and Toyota Land cruisers, all sturdy 4WD vehicles. All our cars are owned by us, and serviced by our workshop in Kigali Rwanda.
In case you need assistance, we are available 24/7 on the phone in the field, we can rely upon a network of workshops for minor repairs. In case of a major problem, we have a replacement vehicle ready. Please refer to our policies for more information.
Toyota RAV4( Recreational Active Vehicle)
The Toyota RAV4 is sporty, compact and robust, as well as being easy and cheap to drive. In our experience, the RAV4 is able to take you around Rwanda in almost any season. The RAV4 has an automatic transmission and permanent four-wheel-drive,or Manual shift depending on the specifications during the booking process that will enable to feature all the terrain of the land of thousand hills.  The fuel consumption is low compared to other 4×4 models, giving you the best value for your money. The RAV4 has a gasoline engine and a fuel capacity of 60 liters with a calculated range between 650 – 700 km depending on the terrain and driving behavior. we offer 3 Doors and 5 Doors Rav4 which can take up to 4 Pax with a reasonable amount of luggage.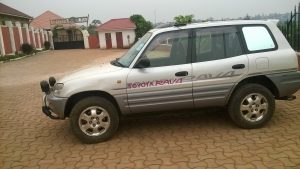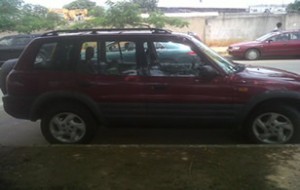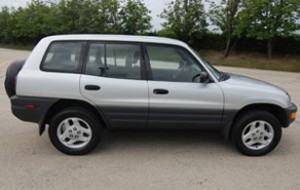 Toyota Land cruiser
The ultimate classic safari car, the Toyota Land cruiser is a very sturdy and reliable car. It has a power full Diesel engine/ petrol  and high ground clearance. This car is a must-have on rough roads to such places as  Akagera National Park, Nyungwe forest National Park & Volcanoes National Park. In case you are planning to hire a car with more than three adults and camping equipment, the Land cruiser is a better fit than the RAV4.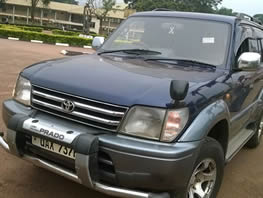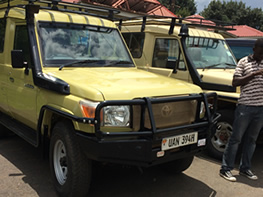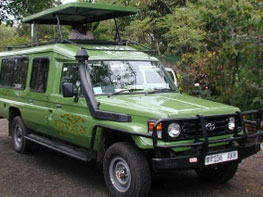 What's included in the Safari Jeep
Air conditioning
Radio with audio connection port for your mp3 player.
& Spare tire, car jack, spanner and wrench
Jumper cables and towing cable
Detailed road map of Rwanda and lots of maps from National Parks
Mobile phone with a local SIM card