Planning to visit Rwanda for Comprehensive safari adventure on road trip?why not check out on the 7 days Self drive safari offered by Rwanda car rental to ultimately explore the Rwanda Primates on your own pace with us only providing the strong safari jeep & Gorilla permit bookings, accommodation and then you do the driving or hire one of our experienced guide to take the stress of driving. 7 Days/6 nights Rwanda gorilla safari takes you to volcanoes national park, nyungwe forest national park, but can be tailored to include any crossing to Uganda depending on the independent travelers choice. The Basic safari activity spotted in the 7 days road trip to Rwanda include Gorilla trekking, golden monkey tracking & Chimpanzee trekking in Nyungwe forest National park.
Day 1: Transfer from the Airport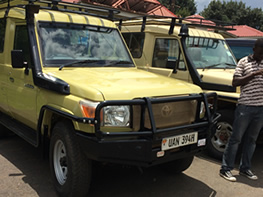 Upon arrival you will welcomed by the staff of Rwanda Car rental and handles over the rental safari jeep with the gorilla permits and lodge booking receipts, take a 2 half hour drive to volcanoes national park viewing remarkable scenery of the Virunga Mountains en route. Dinner and overnight stay at Mountain Gorilla view hotel/Kinigi guest house or Hotel Muhabura depending on the clients choice.
Day 2: Gorilla Trekking in Volcanoes National Park.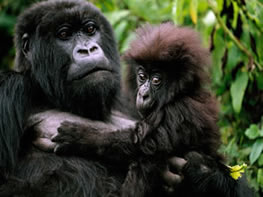 After Morning breakfast take an half hour drive to the park headquarters with packed lunch to be briefed about the dos and don'ts while with the mountain gorillas then proceed to starting point to enter into the forest to start looking for the gorillas in the wild with the help of experienced park rangers that are knowledgeable about volcanoes national park, After gorilla trekking return for lunch and after noon drive to cross to Uganda to be able to visit Maghinga National park. Dinner and overnight stay at golden monkey hotel/kisoro travellers inn depending on the clients choice.
Day 3: Second Gorilla Trekking in Maghinga National Park
After Morning breakfast, take a simple drive of half an hour from Kisoro town and head to the park headquarter to be briefed about the gorilla trekking rules and regulations by the Uganda wildlife authority rangers and later enter into the jungle to search for the mountain gorillas, for Uganda side it can last for 2-4 hours while in the wild. spend the one hour taking photos of the true face to face endangered mountain gorillas. Return to the lodge for lunch and evening time cross back to Rwanda to visit the twine lakes, Dinner and overnight stay at Mountain Gorilla view hotel/Kinigi guest house or Hotel Muhabura depending on the clients choice.
Day 4: Golden monkey tracking.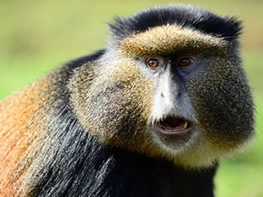 Enjoy your breakfast and head for yet another adventure of Golden Monkey tracking the rare golden monkeys in the bamboo forest. Return to the lodge for lunch and leave for gisenyi with relaxation at the shoes of lake Kivu. Dinner and overnight stay at Lake Kivu water front beach.
Day 5:Nyungwe forest national park.
After Morning breakfast, take a serious drive of between 4-5 hours to nyungwe forest national park for the chimpanzee trekking adventure the next day. Nyungwe Forest national park is the home of the chimps and is ranked as birding destination in Rwanda, Self drive travelers are advised to book their chimpanzee permit in advance ( evening when trekking is for next day), Reach in the evening and visit the local villages and when time allows nature walk activities are available for relaxation and understanding the true culture of Rwandan locals like Tea plantations. Dinner and over night at Gisakura guest house/ Nyungwe forest lodge.
Day 6: Chimpanzee tracking and canopy walk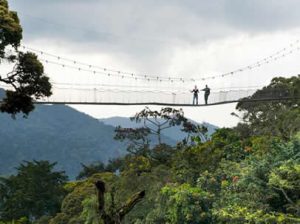 After breakfast, Drive to the park head quarter for briefing about chimpanzee trekking rules and regulations and later proceed for chimpanzees tracking in the forest with the experienced park rangers. Expect an encounter with other Rwanda primates like colobus monkeys,Red tailed ,Bird species & blue monkeys among others. Dinner and overnight stay at Nyungwe forest lodge/ Gisakura Guest House.
Day 7: Departure
Have Break fast and after embark into your safari jeep rented from Rwanda car rental to take the other serious drive of about 6-7 hours from nyungwe to Kigali International park with stop over in some genocide memorials and local markets. later proceed to the airport for departure and hand over of the safari jeep to the company staff.
The 7 Days Gorilla trek Rwanda includes
Car rental Fees
Visit genocide memorials
Accommodation and meals as per itinerary
Gorilla permits to Volcanoes
Gorilla permit for Maghinga National Park
chimpanzee permit for Nyungwe Forest National Park
Golden Monkey trekking Permit
Excludes:
The air fares, Visa, porter fees while trekking the gorillas, laundry, expensive drinks, and other activities not mentioned in the itinerary. Request for quote